A few months on from launching the Clanwilliam Digital division, we are taking a look at how the division is impacting upon not only the patient journey but also the NHS as a whole.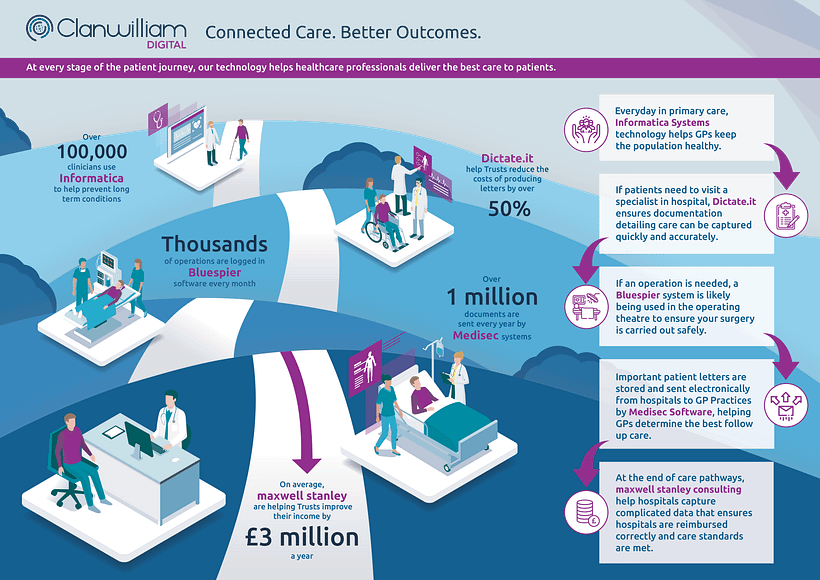 We are firm believers that by working together we can have a greater impact on healthcare. Clanwilliam Digital is a collective of businesses using digital technology to connect people, processes and data across the NHS to achieve better patient outcomes. It currently provides a suite of products that each specialises in a particular part of the patient journey.
Over 100,000 clinicians across the UK are using Informatica to help prevent long term conditions like diabetes and heart disease. It's estimated that 70 per cent of the NHS budget is spent on long-term conditions, and this will only increase if more is not done to support people to stay healthy. By providing a simple approach to preventative care and population health management, Informatica is helping GPs and primary care teams to collect, understand and act on patient data. Helping to keep the population healthy. Read how the team has been helping NHS Medway CCG identify people with hidden heart risks here.
When a patient visits a specialist in hospital there's a good chance Dictate.IT is working away in the background ensuring that all documentation is captured quickly, accurately and securely. Services like speech recognition and outsourced transcription help to alleviate the pressures on clinical and administration teams, allowing them to focus on patient care.  dictate.it is also helping NHS Trusts reduce the cost of producing letters by 50%.
If that patient needs an operation, a Bluespier system is likely being used in the operating theatre to ensure the surgery is being carried out safely. Hospitals trust Bluespier solutions to manage theatre, trauma, emergency, anaesthetics, pre-op and stock activities more effectively to ensure the best possible patient care. thousands of operations are logged in the Bluespier system every month.
Important patient letters are stored and sent electronically from hospitals to GP Practices by Medisec Software, helping GPs determine the possible follow up care for patients. Over 1 million documents are shared every year by Medisec systems, helping the important 'Transfer of Care'.
At the end of care pathways, maxwell stanley works with NHS Trusts to improve data quality and income accuracy.  Working with coding teams, clinicians and Trust finance teams, maxwell stanley ensures all clinical coding is accurate and reflective of procedures, treatments and patient complexity.  Accurate data means each Trust is reimbursed correctly and that their performance metrics – including mortality rates – are accurate.  Depending on the size of the Trust, the maxwell stanley solution generates an income improvement for them of £1 milllion to £4 million per annum.
Individually, these technology solutions fix challenges in areas such as clinical correspondence, theatre management and clinical coding but together, they can provide integrated, connected care across primary and secondary NHS organisations.
Trusted with the care of an ageing population, living with long-term conditions, the NHS faces a wide range of challenges. To overcome these challenges, there has to be a shift in thinking. Healthcare has to move from being reactive and fragmented to being proactive and connected. The answer lies in technology.
To read more about Clanwilliam Group and the Digital Division you can visit our explore section here or follow the related articles below.