We would like to thank each and every team member who took part in our 30 Days of Walking Challenge – it's been so great to join together as a team and see the amazing effort everyone put into their walks! Collectively, we've clocked a surreal 23.7 MILLION steps! For context, that's over 20,000 kilometres, which is more than enough to get us from our office in Dublin all the way to Auckland, New Zealand.
And now to announce the winners…..
Overall Group Challenge
I'm delighted to announce that the overall winner for the CWG 30 Days of Walking Challenge is Natasha Savcenko. Natasha has put a huge amount of effort in over the last 30 days and has clocked a whopping 1,354,432 steps – she even made the effort to walk the 7.5kms to and from work most days during the challenge! Well done Natasha – very well deserved.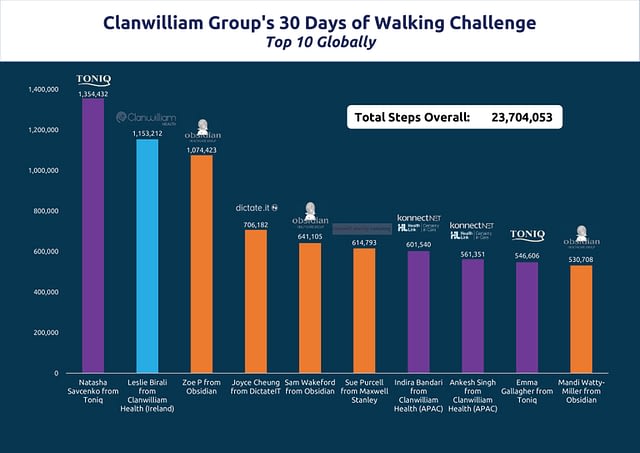 BU Challenge
Again another great effort put in by all participants in each individual business unit challenge. The winners are….
Toniq – Natasha Savcenko
Clanwilliam Health (IRE/UK) – Leslie Birali
Dictate IT – Joyce Cheung
Obsidian – Zoe Pereira
Clanwilliam Health (APAC) – Indira Bandari
ClanwilliamHQ – Craig Kennedy
Informatica – Laura Suter
Maxwell Stanley – Sue Purcell
Average Steps per Person per Region
This was a very close one to call, with the UK and India coming in neck and neck. However, the UK have come out on top with an average of 333,982 steps per person. We are delighted to confirm that Clanwilliam Group will be donating £1,000 to the UK Red Cross.
Well done to Ashok from our Indian office who came in a very close second here with a step count of 321,569!
Picture Challenge
We had some great submissions again this week for the picture challenge. Our winner this week is James Rawsthorn from Toniq. James got this great snap attached from a camping trip up Bealey Spur in the Authur's Pass National Park in New Zealand. Great picture James, well done! 😊
Finally, we'd like to thank everyone again for taking part in this challenge. It's been a welcomed distraction for many of us and we look forward to doing more activities in the future.